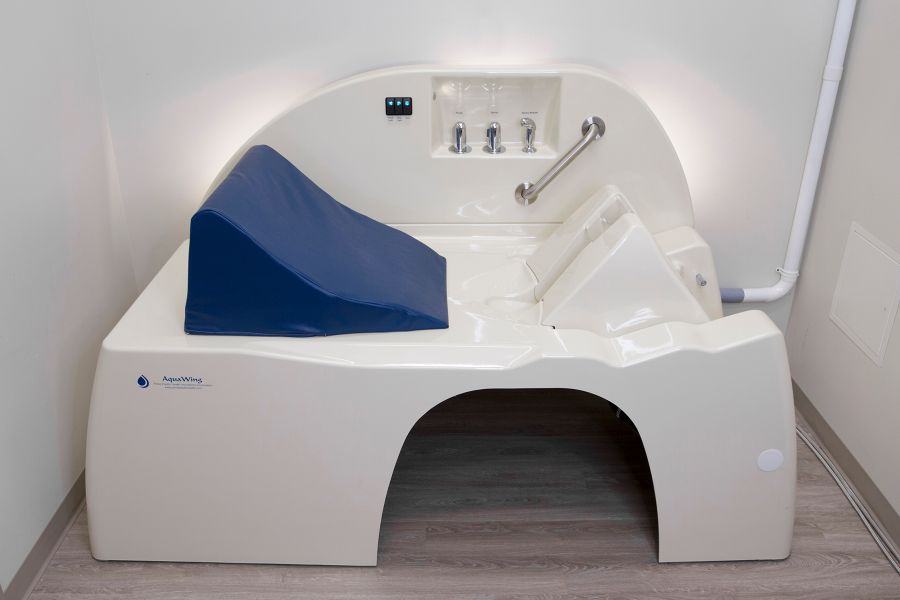 AquaWing
Introducing the only treatment table that can easily be set to comfortably support your patient for both open-style and closed-style colon hydrotherapy treatments delivered with your colon hydrotherapy device.
The AquaWing is the world's first convertible basin treatment table. It can quickly be set up to support open-style or closed-style colon hydrotherapy treatments with exceptional design and comfort, allowing for the delivery of any treatment style to match your patient's preference from a single treatment room.
Leading health professionals around the world have chosen the

AquaWing

for their practice.

 
Learn more about the convertible basin treatment table.
The AquaWing supports an outstanding patient experience thanks to:
Ergonomic and professional design — to meet the highest standards for patient trust and comfort;
Two patient support settings — each support the patient for either the delivery of an open-style or a closed-style colon hydrotherapy treatment;
Comfortable and adjustable support cushions — which can be configured to accommodate a wide range of body types;
An active odour control and ventilation system — which quietly eliminates potential unpleasant odour from the waste basin;
An illuminated view-tube — which allows for the viewing of waste released naturally into the basin as it flows away during open-style treatments.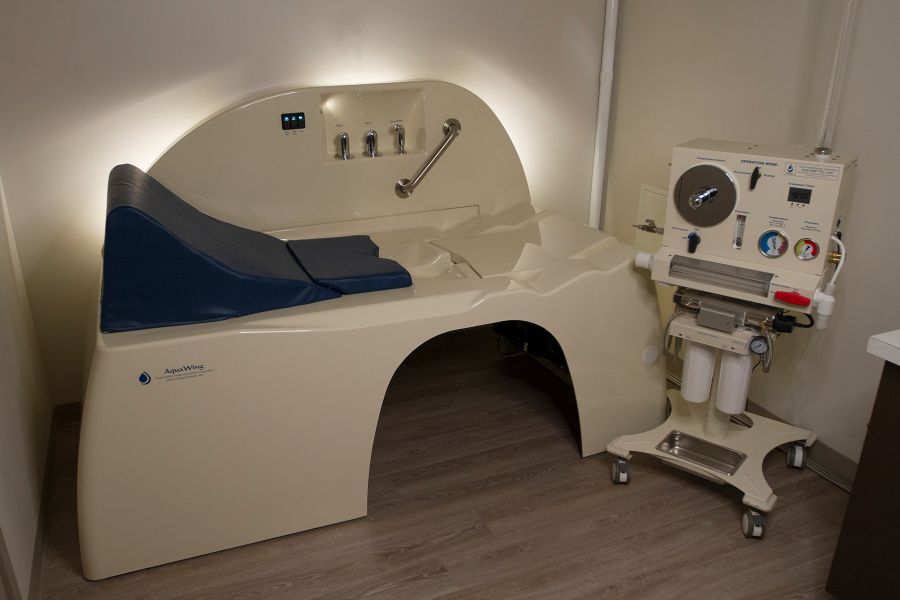 The AquaWing provides the best practitioner experience available.
Hygienic and easy to clean design — with gelcoated and polished fibreglass surfaces and high quality vinyl upholstered support cushions;
Quick and easy conversion — with modular components to convert between open and covered basin settings quickly and easily, even between patients;
An integrated spray nozzle — to quickly clean treatment surfaces and wash waste into the embedded basin in any configuration;
An active flushing system — to quickly and efficiently remove waste from the treatment table and deliver it to the sanitary system of the treatment facility;
A threaded flow-through portal — to easily position a rectal tip and water line from a colon hydrotherapy device for open-style treatments.
Quick and easy conversion between the open basin and covered basin table setting.
When in the open-basin configuration, an ergonomic wedge cushion and contoured leg support comfortably positions the patient over the open basin. Throughout a treatment the patient is able to naturally release waste which falls into the basin and is quickly drained to the sanitary system of the treatment facility.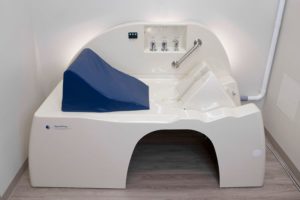 A large wedge cushion provides comfortable back support to the patient in a semi-reclined position, while a smaller support cushion provides added comfort during closed style treatments.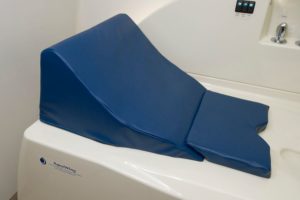 Comfortably positions the patient over the basin for easy insertion of rectal tip and direct release of waste into the embedded basin.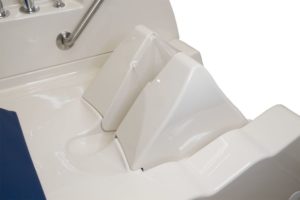 Allows the practitioner to view the interior of basin during treatment.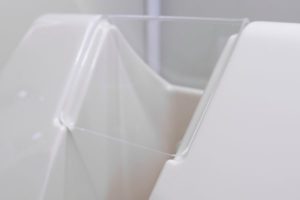 Threaded Flow-through Portal

Easily positions the rectal tip and water line from the treatment water source.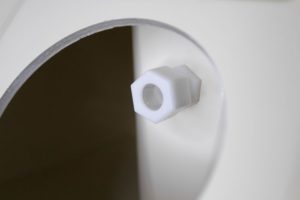 Easily allows for viewing waste by way of a wall-mounted mirror.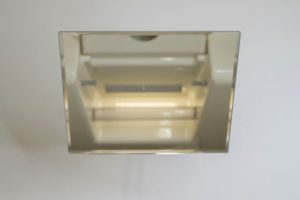 Covered-Basin Configuration

Superior level of sanitation.
When in the covered basin configuration for Closed Style Treatments, the patient is reclined on comfortable and hygienic vinyl cushions. The waste basin is partially covered, however an appropriate opening is positioned to collect and wash-down waste if leakage occurs during and after the treatment.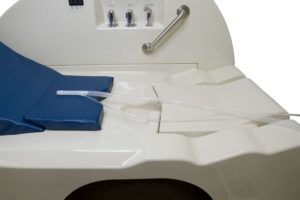 Water spraying, flushing and table lighting are all at your fingertips, as well as a telescopic spray nozzle to easily maintain table hygiene.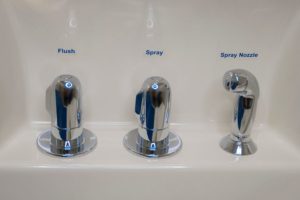 The AquaWing has an integrated feature designed to minimize the consumption of water while maintaining optimal treatment functions.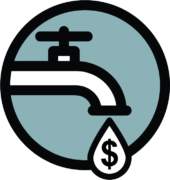 The AquaWing was designed to allow for the highest level of sanitation and prevention of cross-contamination with unparalleled features such as:
Seamless table top design allows for complete and effective sanitary wash-down in open or closed position.

Flow-Trough port for treatment water delivery. The treatment water is delivered trough a disposable rectal tip and water line and never touches any parts of the treatment table.

All controls including switches are water resistant for effective wash-down.

Continuous basin design for un-interrupted Waste Drainage. (No shower drain adapters)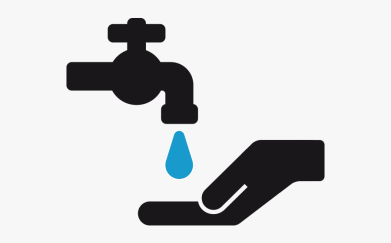 Effectively removes odours during any style treatments supporting a pleasant treatment-room environment.
Open Style Treatments from the waste basin area.

Closed Style Treatments from potential spill/leak areas.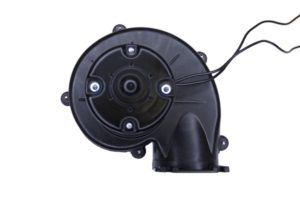 Warranty
We provide ongoing, unequalled, after- customer support free of charge for as long as you own your equipment so you can relax and focus on your business.
Installation/Setup
Learn about setting up your AquaWing with helpful diagrams and technical considerations.
I have been practicing Colon Hydrotherapy with closed system equipment for many years – my experience with the AquaWing treatment table has been a dream come true. The biggest advantage for me is that the treatment table allows me to deliver both open and closed style treatments to accommodate my client's needs and preferences.  The AquaWing greatly improves the experience of delivering closed style treatments because waste leaked by any clients with sphincter issues is easily washed away and evacuated through the waste basin. This avoids the unpleasant cleanup that would be required with traditional treatment tables.
When supporting a patient for open-style treatments on the AquaWing treatment table, I like that I can still use many of the same features and functions of the colon hydrotherapy device delivering the treatment water as I can when delivering closed style treatments. For example, I use the Aquanet EC-2000, and I can deliver treatment water in both the pressure and gravity modes of operation for both open and closed style treatments.
My clients feel very much at ease with the different choice leg supports and have commented on how comfortable they feel on the AquaWing, both when it is set up for open style treatments and for closed style treatments.
The AquaWing table allows me to take my business to a whole new level accommodating a wider variety of Patients.