Installing Aquanet in Clinics
Aquanet colon hydrotherapy equipment is easy to install and comes with comprehensive and clear installation instructions. Additionally, we have complete, easy-to-follow pre-installation instructions that explain spacing in your treatment room, setting up the sanitary sewer connection and hot and cold water connections, hot water source, water pressure, and guidance on how to make a colon hydrotherapy treatment table. You'll find much of the crucial pre-installation information you need below to prepare your clinic for the installation of an Aquanet device.
We also have video guidance with more details on how to prepare your clinic prior to the arrival of your Aquanet device. To request access to this comprehensive video guidance please contact us.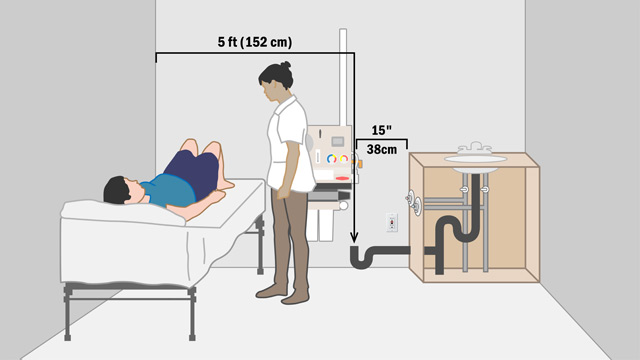 Installation Access Requirements
Contact us for installation access requirements.
2″ Sanitary Drain Connection
Located in the wall under 13" from the floor depending on location relative to the treatment table waste outlet. The transverse pipe run from the table to the wall connection must maintain a downwards draining slope of ¼" per 12".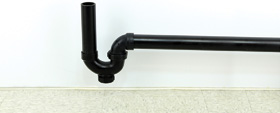 2" (5.1cm) Sanitary Sewer Connection
Rigid pipe with a dedicated P-trade configuration.

Hot and Cold Potable Water Shut-off Valves
If a colon hydrotherapy device is used for treatment water delivery, each water connection can be branched with T-fittings to supply both the treatment table and the colon hydrotherapy device. Requires a 3/8 inch compression fitting.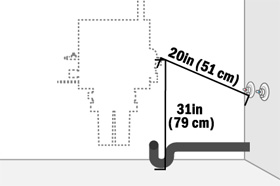 The Venting System integrated into the Table requires venting to the outside.
2″ PVC Plumbing Pipe or 2″ Central Vacuum Pipe or 2″ Central Vacuum FlexTubing.

Ground Fault protected Electric Power Outlet
110-240VAC. 50-60 Hz, 2.7A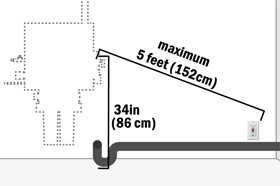 | | | |
| --- | --- | --- |
| Inadequate Pressure (colon hydrotherapy equipment cannot operate) | Below 20 PSI (1.4 BAR) | Install Pressure Booster Pump |
| Marginal Pressure (frequent filter changes necessary) | 20-29 PSI (1.4-2.0 BAR) | Installing Pressure Booster Pump highly recommended to increase life of filters |
| Adequate Pressure | 30-49 PSI (2.1-3.3 BAR) | Install Pressure Booster Pump recommended to increase life of filters |
| Optimal Pressure (most efficient use of filters) | 50-70 PSI (3.4-4.8 BAR) | No action needed |
| Excessive Pressure | Above 70 PSI (4.8 BAR) | Install Pressure Regulator |
The above measures should be taken are at their lowest point i.e. if water from the same source is used at the same time at other points of use, the water pressure will be reduced.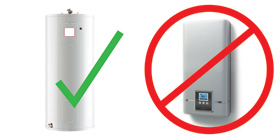 This must be a hot water heater tank, not an in-line tankless water heater. An in-line tankless hot water heater does not work as a hot water source for colon hydrotherapy equipment.
Specs of the hot water heater tank required to be able to deliver continuous back-to-back treatments:
The potable hot water source needs to be sufficient to deliver water at 130 ℉ (55 ℃) at a constant level. Aquanet units will operate with lower temperature and smaller volume hot water capacity, however, some recovery time after multiple treatments may be necessary.